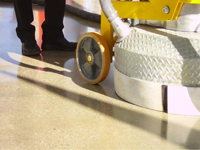 After operating on a contracting basis for many years, Phoenix Floor Preparation became a Pty Ltd Company in 2003 and we haven't looked back since. Our hands-on approach to Project Management ensures our valued customers always receive the result they expect, as customer satisfaction is one of our highest priorities.
We work with a select few subcontractors who have proven to have the expertise and reliability essential to providing the efficient and effective results we deliver.
Our owner and founder is Juan Fernandez, a well-respected and skilled operator with a straight-forward honest approach.
Our primary subcontractor is John "Wolf" Clarke of Diamond Flooring, whose specialist Epoxy Application skills are well known within the industry.
References and testimonials are available upon request, as are details of the larger corporations we have worked with and specific projects we have undertaken.
Please don't hesitate to contact us if you have any queries. Large or small, we would welcome the opportunity to have your project included in our list of satisfied clients.